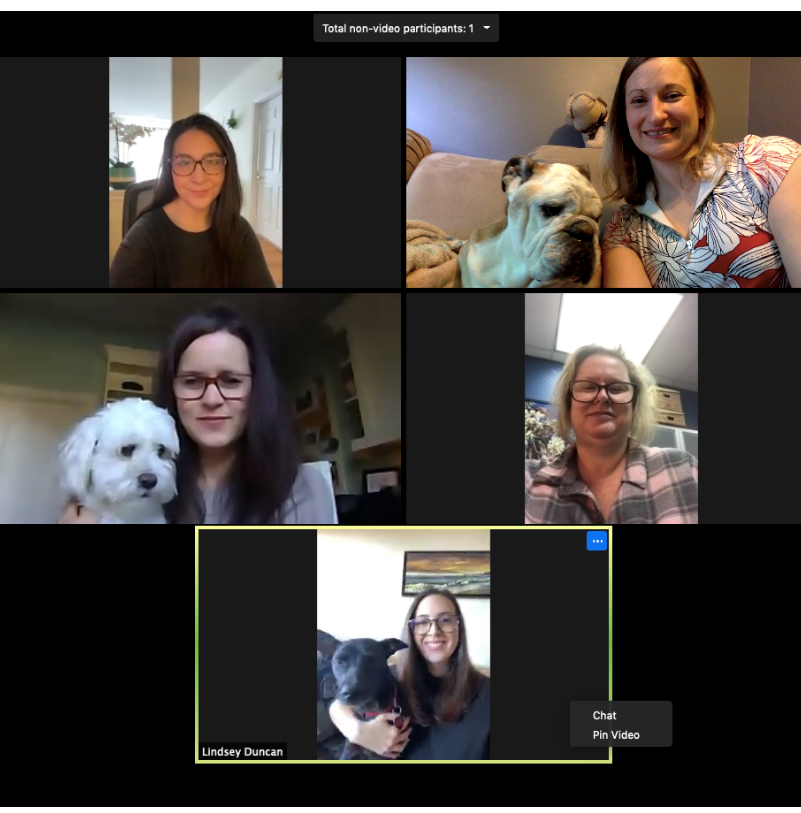 Tara Miller – April 2020
As April draws to a close, it's hard to believe we've been living and working in the new COVID reality for over 6 weeks. Despite the unique and uncertain times we find ourselves in, MDW Law's Personal Injury and Insurance Team has adjusted to our new work environment as we take care of our own families (including furkids) and continue to support our clients.
Thanks to technology, and the flexibility and hard work of our entire team, we've been working remotely and safely from home since mid March. Our team meets daily to review files with ongoing collaboration.
Despite the picture, things have not "gone to the dogs!". It's business as usual with discoveries, mediations, client meetings and consults done by video conference. While Nova Scotia's courts have adopted an "urgent" model, they have recently expanded matters they will hear to certain "non-urgent" matters. https://www.courts.ns.ca/News_of_Courts/documents/NSSC_Hearing_Non-Urgent_Matters_04_21_20.pdf
Client work progresses with continued connection with our clients as we all navigate through this unprecedented time sharing experiences and supporting each other.  Never have we been so proud to be part of our collective Nova Scotia community.
Many of our clients are frontline healthcare workers or members of the policing community. Our deep gratitude to you and all your colleagues as you work through significant adversity with fortitude and grace to keep us all safe.
We are also pleased to announce that MDW Law article clerk Allison Harris (pictured above in the top right with Pork Chop) will be our newest personal injury  lawyer when she is called to the bar in June! Many of you are familiar with Allison and know how fortunate we are to have her join our team!  
From all of us to you – we will get through this.  "Staying positive doesn't mean you have to be happy all the time.  It means that even on hard days you know that there are better ones coming" – Author Unknown.
Please reach out with any questions you may have about your accident situation. We continue to offer free initial consultations to support you and your families and can be reached at 902.422.5881 or info@mdwlaw.ca.